Regular price
$49.00 USD
Sale price
$44.00 USD
Unit price
per
Sale
Sold out
All Natural Scalp Treatment Oil
MANE Roots, all natural hair and scalp treatment oil, is cruelty free, 100% vegan. Made with over 85 hand-picked natural ingredients that are known for over 5000 years in ancient Ayurvedic practice to:
Promote & speed up hair growth

Stimulates scalp for new hair growth & protects roots

Helps grow back edges & beards

Strengthens & thickens hair from root to tip

Moisturizes, Hydrates, Adds shine & helps in reconstructing & repairing hair

Helps remove dandruff flakes & soothes itchy scalp

Helps reduce frizz, split ends, dry, damaged hair & breakage

For all hair types, men & women, including colour treated hair, relaxed hair, braids, weaves, dreads, protective styles

Great to use for people with hair loss, hair fall, bald spots, postpartum hair loss, severely damaged & dull hair, alopecia, heat damage, dandruff, frizzy, dull, dry, oily greasy hair
Directions:🌱
Apply 1-2 droppers on scalp and massage thoroughly.
Leave on for minimum of 1 hour or leave in overnight.
Wash and style hair as usual.
Use 2-3 times per week.
Ingredients:🌱
Grapeseed oil (Vitis vinifera seed oil), Castor oil(Ricinus communis seed oil), Avocado oil(Persea gratissima oil), Almond oil(Prunus amygdalus dulcis seed oil), Coconut oil(Cocos nucifera oil), Rosemary oil(Rosmarinus officinalis leaf oil), Orange oil(Citrus aurantium dulcis), Lavender oil(Lavandula angustifolia oil), Peppermint oil( Mentha piperita oil), JBCO, Black castor oil, Haitian castor oil, Pumpkin seed oil(Cucurbita pepo seed oil), Hemp seed oil(Cannabis sativa seed oil), Tea tree oil(Melaleuca alternifolia leaf oil), Ylang ylang oil (Cananga odorata flower oil), Basil oil(Ocimum basilicum oil), Geranium oil(Pelargonium graveolens oil), Eucalyptus oil(Eucalyptus radiata leaf/stem oil), Carrot oil(Daucus carota sativa seed oil), Vitamin E(Tocopherol), Black seed(Nigella sativa), Rosemary leaves(Rosmarinus officinalis), Fenugreek(Trigonella foenum-graecum), Cloves(Syzygium aromaticum), Bay leaf(Laurus nobilis), Sidr leaf(Frangula alnus), Coffee(Coffea), Cinnamon(Cinnamomum verum), Black rice(Oryza sativa l. indica), Ashwagandha(Withania somnifera root extract), Amla(Emblica Officinalis Fruit Extract), Shikakai(Acacia concinna), Moringa(Moringa olefera), Bhringraj(Eclipta alba), Brahmi(Bacopa monnieri), Gotu Kota,(Centella asiatica), Saw Palmetto(Serenoa repens), Chebe(Croton Zambesicus), Triphala,(Phyllanthus emblica, Terminalia bellirica, Terminalia chebula, Rosemary leaves (Rosmarinus officinalis Leaf Extract), Aloe vera (Aloe Barbadensis), Sesame seeds (Sesamum indicum seed oil, Mustard seed(Brassica rapa seed extract), Neem powder (Azadirachta indica (Neem) leaf powder), Orange peel(Citrus aurantium dulcis peel extract), Stinging Nettle(Urtica dioica extract), Horsetail(Equisetum arvense), Lion mane mushrooms(Hericium erinaceus), Burdock roots(Arctium lappa root extract), Biotin, Dandelion roots extract(
Taraxacum officinale)

, Green tea extract(Camellia sinesis), St Mary's Thistle seeds(Silybum marianum seed oil), Rhubarbs roots(Rheum palmatum root extract), Fennel seeds(Foeniculum vulgare seed extract), Ginger root(Zingiber officinale root oil), Lemon myrtle(Backhousia citriodora leaf extract), Siberian ginseng(Siberian ginseng extract), Hibiscus(Hibiscus sabdariffa flower extract), Ginkgo biloba leaf(Ginkgo biloba leaf extract), Passion flowers(Passiflora incarnata extract), Calendula petals (Calendula officinalis flower extract), Rosehip shells(Rosa canina extract), Lemongrass (Cymbopogon schoenanthus extract), Olive leaf(Olea europaea leaf extract), Echinacea root(Echinacea purpurea root extract), Rose petal(Rosa centifolia flower extract), Lavender petals(Lavandula angustifolia(Lavender) Flower Extract), Cat claws bark(Uncaria tomentosa extract), Lemon peel(Citrus limon peel extract), Vetiver root(Vetiveria zizanio ides), Senna flowers(Senna species), Senna leaves(Senna species), Licorice root(Glycyrrhiza glabra root extract), Alkanet(Batschia canescens), White turmeric(Curcuma zedoaria rosc), Bakul flower(Mimusops elengi), Bawchi seeds(Psoralea corylifolia linn), Henna seeds(Lawsonia inermis), Sweet flag(Acorus calamus), Myrobalan(Terminalia chebula), Screw tree pods(Helicteres isora), Curry leaves(Murraya koenigii), Vilumichai root(Plectranthus vettiveroides), Green tea leaves(Camellia Sinensis)
Disclaimer:
**FOR EXTERNAL USE ONLY**
**Product contains nuts, seeds, herbs, flowers & essential oils. Refer to the complete list of ingredients for possible allergens and do a 24 hour skin test to make sure your skin isn't sensitive or allergic to the product. If an allergy occurs, stop using the product right away. 
**Mehreen Amoure is not liable or responsible for individual illness or allergic reactions. Results vary from person to person. Please consult a physician prior to use if you are pregnant or have any health concerns.

**This product is not intended to prevent, treat, diagnose, or cure any disease. This product and information on this page have not been evaluated by Health Canada or the FDA.

Share
View full details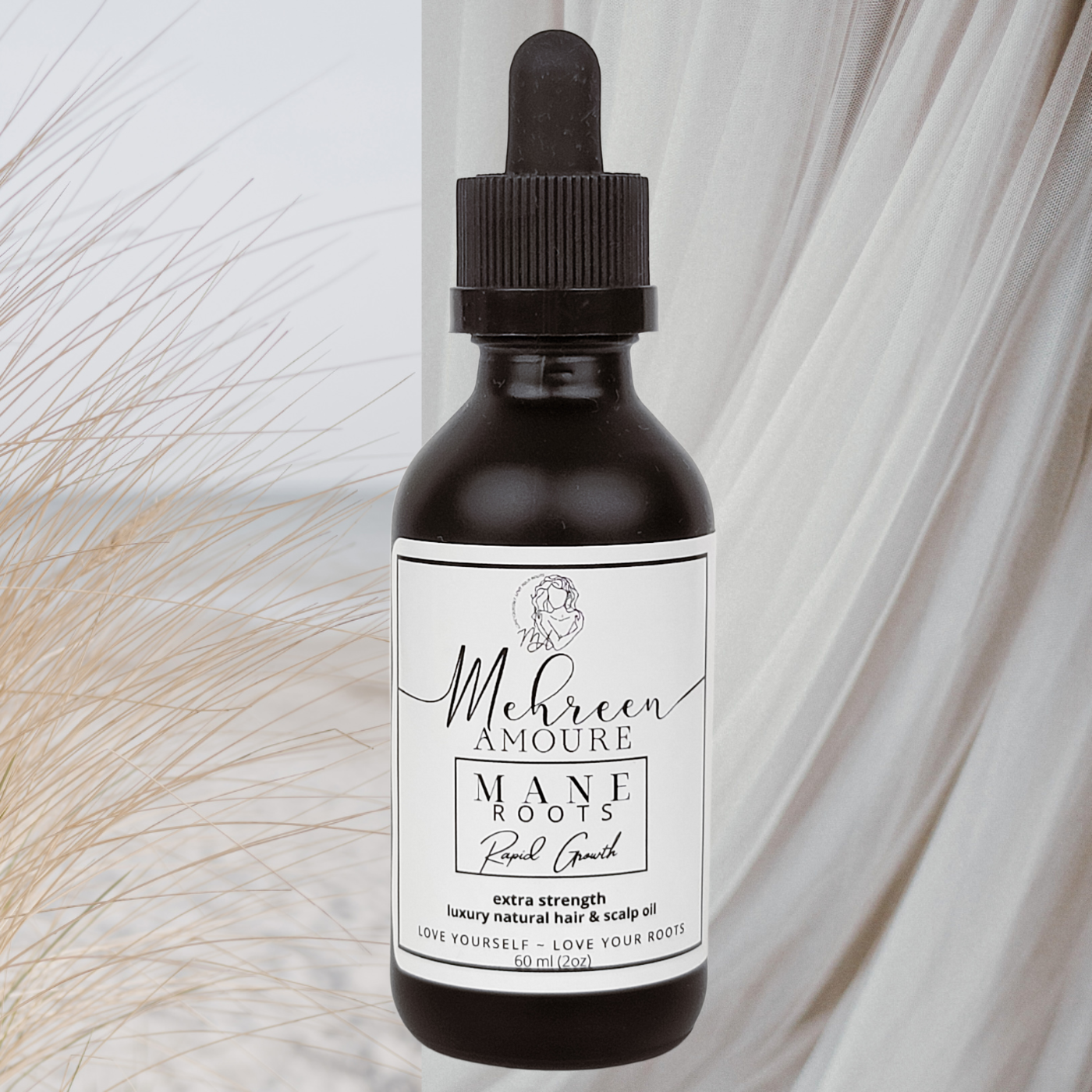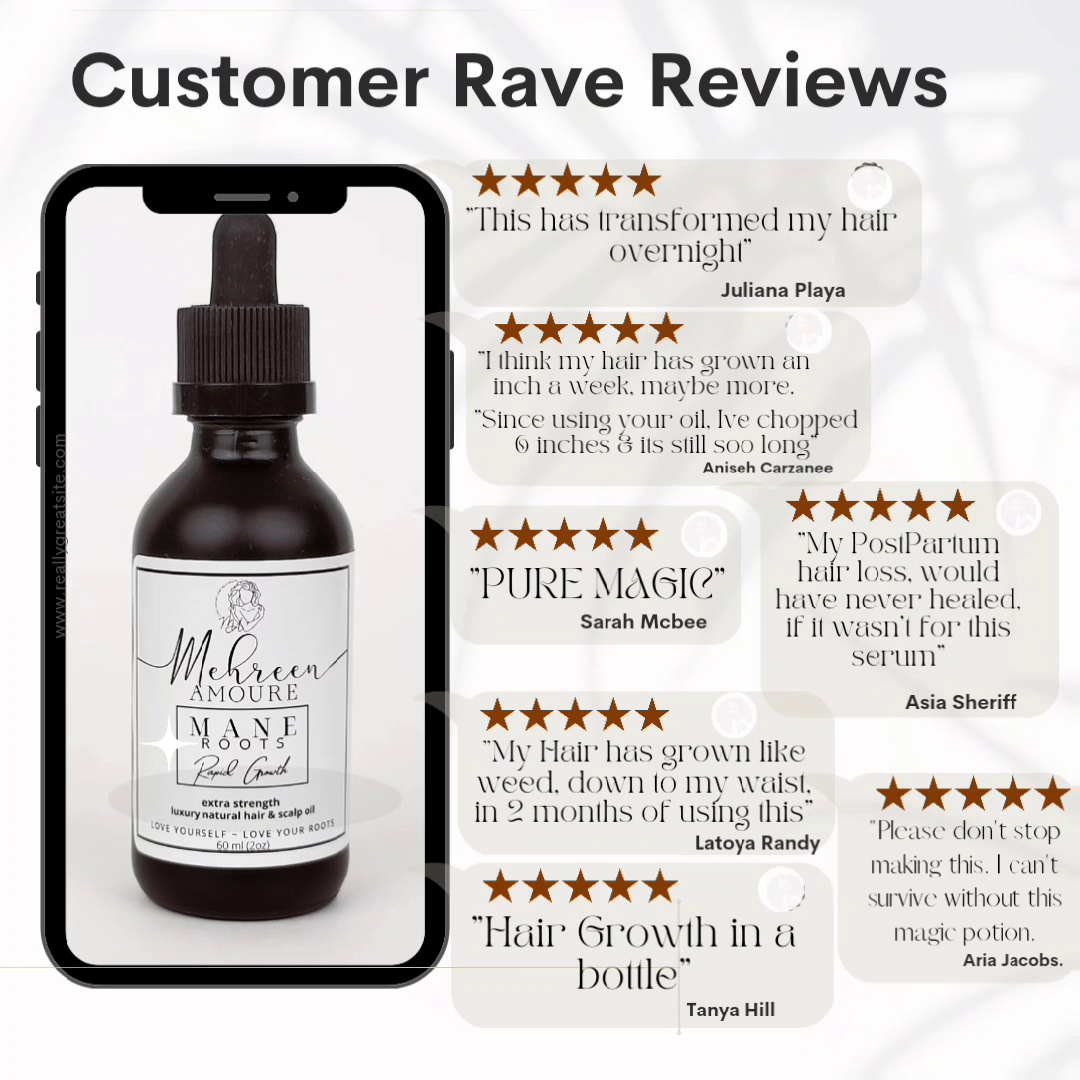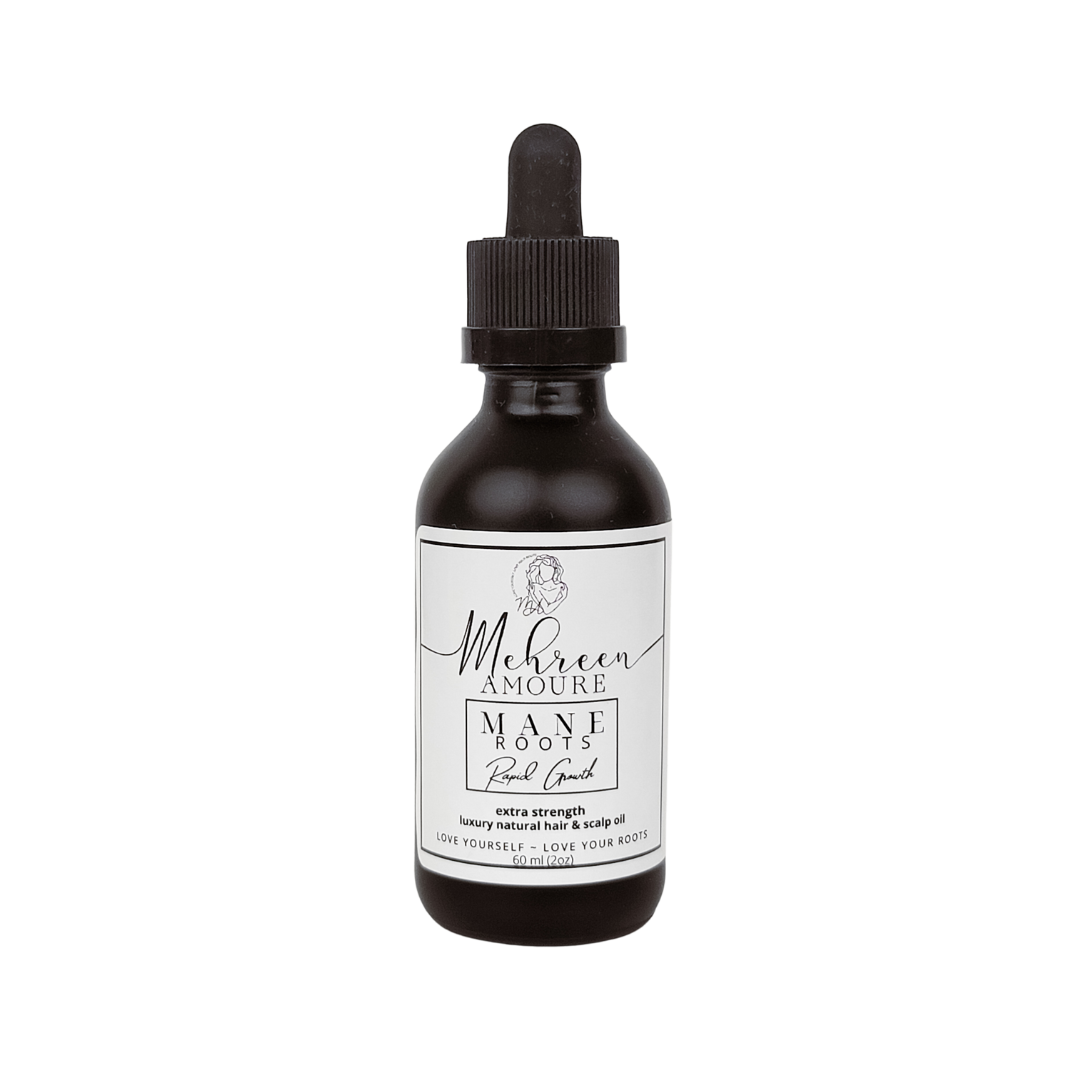 my hairline got a lot denser
my hairline got a lot denser after using this oil. I was soo worried it kept getting sparse and I was also going through hormonal issues. it helped soo much with my hair growth. highly recommend
I swear by this.
I used this on my beard and my hair , within 3 months I saw a huge difference. If you have beard spots or hair loss I would definitely give it a try. I saw an ad on social media and decided to give it a try , so glad i did.
this was the only thhing that helped me
this was the best and only thing that helped me grow my hair and beard. I have attached a pic of a 6 mth period of using it.
literally the best leave in conditioner ive ever tried
I've tried over 10 leave in conditioners, I've tried Ouai, the As I Am one, shea moisture, deva curl, etc. They all leave my hair sticky, or crunchy, or frizzy.
I have wavy, thick, medium porosity hair (Indian hair) and usually nothing works for it. With this, I just wash, condition, and then put this in, with no other curl products and it works like a charm! Obviously curls aren't too defined, which is okay cuz I have wavy hair, but it's so so soft and frizz free
edges galore
I use this product to grow the top of my hair and edges back. I use it twice a day and massage it in with my fingers. i dont think im imagining this but i think my finger nails are growing longer and stronger as well!